Bentleys' giving results in Joy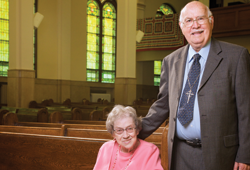 For Elder and Esther Bentley, the decision to give to Luther Seminary is a matter of simple math: the amount they give equals the amount of joy they'll feel in return. Based on that equation, the Bentleys will be joyful the rest of their lives and beyond.

The couple has set up two charitable gift annuities, which are deferred gifts that will pay out a fixed income to the Bentleys throughout their lifetimes. Any remaining principle goes to the seminary.

"It's a win-win situation," Elder says. "This powers you to give a gift and gives you a tremendous tax break."

Experience the joy of giving. Ask us about the benefits of charitable gift annuities.