David Rutlen Helps Create Leaders for the Church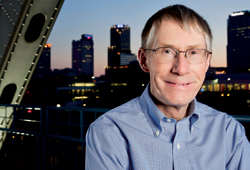 The church has been a part of David Rutlen's life since before he was born. His grandfather, whom Rutlen never knew, pastored a Finnish-speaking congregation. And Rutlen's father, who died in 1984, always wanted to be a pastor. Rutlen, a physician living in Little Rock, Ark., thought the best way to honor that dream was to help pastors in training.

Rutlen included Luther Seminary in his will so the education of future church leaders could continue after he was gone. He also established a lecture series on faith and creation, and an academic chair in his parents' names: Robert William Ruotsalainen Rutlen and Elizabeth Jane Runn Rutlen.

"The most substantial thing at Luther is the faculty, so [the chair] was an easy thing for me to do," says Rutlen. As for the lecture, that's just one more way Rutlen is honoring his family. His father had a passion for the environment and social justice. And now Rutlen's daughter is carrying the same torch.

"I hope the lectures become so vibrant. I believe it's important in the training of new pastors for the church," says Rutlen. "I know Luther is a leader in a number of areas, and I hope ultimately it also becomes a leader in the area of faith and creation."