Removing Financial Barriers for Future Pastors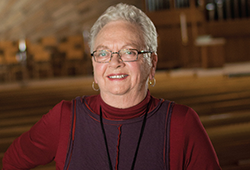 Gerrie Granquist is passionate about removing financial barriers for those called to be pastors. She took action on that passion by creating "The Widow's Mite Endowed Scholarship Fund" with a testamentary IRA designation to Luther Seminary.
"I support the Seminary because they are producing pastors whom we need so much," says Grandquist.
Grandquist's generous gift will help ensure that her church, Trinity Lutheran Church in Stillwater, Minn., and other churches, may continue to benefit from excellent leadership.
"I was baptized at the church and it has always been a big part of my life," says Grandquist. "I've seen it transform people, including my grandson."
She wants to be generous with her sons, daughters-in-law and grandchildren by providing an estate gift for them, and also wants to model her support of ministries she cares about, Luther Seminary and her church. By setting up the testamentary IRA designation to Luther Seminary, she is pleased to be accomplishing both of these goals.