Field of Dreams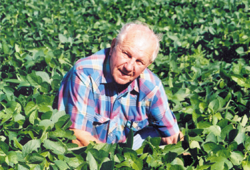 Edgar Johnson looks out at his fields of golden wheat and rows of green-leafed soybeans and sees a gift from God.

"All that I have has come from God. It seems appropriate to give it back," said the Wheaton, Minn., farmer.

In the winter of 2001, Johnson asked his pastor, Pastor Tom Olson of Good Shepherd Lutheran Church in Wheaton, how he could make a gift that would help ensure there were pastors in the future. The congregation knew what it was like to go without a pastor. They waited a year without one before "Pastor Tom" received the call.

Olson recommended he talk to Luther Seminary. The Seminary Relations' staff and philanthropic adviser Gerry Rafftery worked with Johnson to find the right way to gift his farm at the end of his life through his will and through a retained life estate agreement. This process will create an endowed scholarship fund that will help ease the financial burdens of students as they prepare for ministry at Luther Seminary.

This is not the first time Johnson has given back from the land that he has cared for since 1949. He has taken part in the Foods Resource Bank (FRB), a Christian grass-roots organization that seeks to end world hunger through community involvement. Johnson and seven other farmers who are members of Good Shepherd have donated profits/produce from a combined 40 acres of land to the FRB.