Sprengers Ensure Good Church Leadership for Future Generations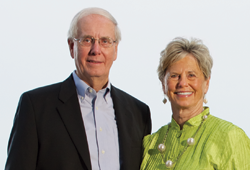 Gordon and Dee Sprenger recently celebrated their 50th wedding anniversary with their family, which includes 12 grandchildren. In their years together, the Sprengers have given everything to their family—including ensuring a legacy of good preaching.

The Sprengers believe Luther Seminary prepares the kind of future church leaders who impact theological education throughout the world. Because of this, they give through a combination of cash gifts and deferred giving, most notably through the Sprenger Fund for Excellence in Biblical Preaching Endowed Program Fund.

"Lutherans identify preaching second only to communion as the most valuable part of worship," says Gordon. "The question is, what's going to captivate the next generation? What's going to ensure that the church will remain strong and vibrant in the next generation?"

The endowment ensures that preaching programs like WorkingPreacher.org can be started—and sustained. The Sprengers contributed a gift to start the site, which garnered 3.25 million visits in the past 12 months.

"We want to share our faith and love of the church with future generations," says Gordon. "We hope this plays some small part in providing the opportunity for our grandkids and other future generations to really hear the gospel preached and through that become very committed and Christ-like people in their spiritual and daily lives."

Ensure a future of good preaching. Contact us today.