Lucy Christianson Entrusts Her Legacy to Luther Seminary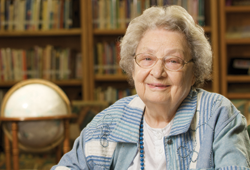 Lucy Christianson and her late husband, Woody, wanted their passion for libraries to be passed on to future church leaders. So Christianson, who has worked in her church library for 20 years, created The Lucy Endowed Media Fund through a number of charitable gift annuities. "We agreed on this. We decided this was the direction to go," says Christianson. "And I thought Luther Seminary was the place to start."

The Fund is meant to educate seminary students, clergy and lay leaders about the role modern library-media centers can play. Since 2002 Christianson has set up 14 charitable gift annuities that allow her to support a cause she believes in while creating a stable income for herself.

"It took a long time for schools to create media centers — churches need them even more."

Who will carry on your legacy? Ask us about the ongoing benefits of charitable gift annuities.