Jerry Williams Makes a Sound Impact on Future Church Leaders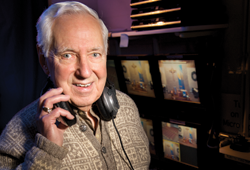 You can't see the mark Jerry Williams has left on his congregation, but you can certainly hear it. When Williams arrived at Bethel Lutheran in Northfield, Minn., in February 2007 he revamped the outdated audio setup and now keeps it sounding perfect.

"I don't want anyone to miss out on their salvation because they can't hear the preacher," says Williams.

In his time at Bethel and his former congregation, Williams has trained more than 30 students on church audio equipment. While they're learning sound, they also learn the liturgy and other life lessons from Williams. Future generations are Williams' motivations for giving to Luther Seminary. "I've been blessed with some wonderful pastors, but they're going to be gone. We need to replace them."

Charitable gift annuities allow Williams to ensure the future leadership of the church will be strong while sustaining his own financial health. He also designated a $100,000 scholarship to go to students in the Children, Youth and Family program.

"We need to start with children and families," he says.

Do you want to help raise up future church leaders? Contact us today.