Larry and Jane Winter Continue Family Legacies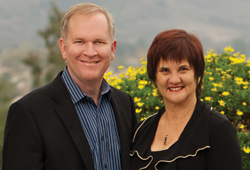 Larry and Jane Winter have large legacies they want to fill. Both are children of Luther Seminary alums who put a high value on supporting the church. Carrying on their parents' lessons, the Winters support Luther Seminary through both annual and planned gifts.

"We both realize how large of an impact we can make when we make a planned gift," Larry said.

They also give regularly to The Winter Family Endowed Scholarship Fund at Luther Seminary, established by Larry's parents. Though the Winters don't have children of their own, they still feel strongly about contributing to future pastors and church leaders.

"We give because we realize we need more parish ministers," Larry said. "We need people to fill churches throughout the country."

The Winters are so dedicated to contributing to future church leadership that they have decided to work for as long as they are able.

"When I get a little weary about work, I think about what an impact the money I am earning to put toward our future gift will have on many peoples' lives," Jane said.

You can impact the future of the church through Luther Seminary. Contact us today.