Dorothy Lee Continues Tradition of Giving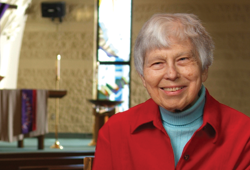 Dorothy Lee and her late husband, Alan, wanted to make sure the church always had strong, compassionate leaders, so they gave to Luther Seminary.

Together, Alan and Dorothy included Luther in their estate plans. After Alan passed away, Dorothy established a charitable gift annuity that will eventually fund the Alan and Dorothy Kjorlie Lee Endowed Student Scholarship.

"By giving my asset to Luther Seminary, I could receive fixed income through my whole lifetime and minimize the capital gains taxes," says Dorothy.

"I believe Alan smiled from heaven when I set this deferred gift up. I gave the gift, but I get the benefits from it now."